Seamless integration of other players in single player campaign decreases the distinction between single player and multiplayer. It adds to the immersive nature of the game. It also helps in keeping the player engrossed in the game for longer duration of time and increases the element of surprise in the game. This in turn makes the game alluring and realistic to play.
Examples
Edit
1.Watch Dogs
Edit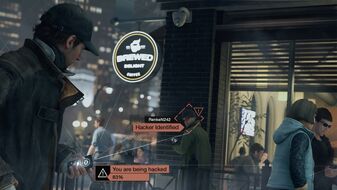 In Watch Dogs, other players can hack and install a virus to your in-game smartphone at any time. When this happens, you'll be alerted with an on-screen message and virus installation percentage. As it increases, you must use your smartphone's Profiler app to find the hacker.Hackers appear in your game as regular NPCs. Though the person playing the hacker is actually Aiden Pearce in their game.
2. GTA: V
Edit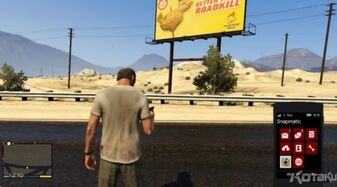 Personally, I thought GTA V's integration of the smartphone was well done. It solved the "inventory and main menu" problem by using the popular smartphone for the mechanic to keep it in theme and unobtrusive. The fact that the phone just barely slips into view out of the corner of your eye is also an attest to how smartphones may be peripheral, but can require front and center attention to maneuver when doing particularly engaging tasks like driving a car.