Game is a kind of software project, so it usually takes a long period of time to make new contents. But players' speed of consuming these contents could be very fast. So, in a lot of online games, players have to repeat a certain level many times to get into next one because of their tasks and levels. It is really a kind of boring experience for players do nearly the same thing over and over again. Personally, I gave up a lot of games as a result of this design.
Example: Crusaders Quest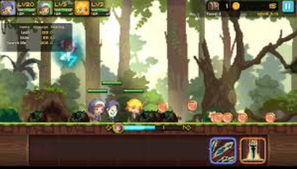 Crusader Quest is a great mobile game which I used to play a lot. It has great art, wonderful music and fantastic gameplay. But finally, I gave it up. The main reason is in the game, in order to gain experience or finish tasks, you should repeat a certain level over and over again. There is no skip or some mechanics to reduce that kind of negative game experience. You should focus attention on a same level countless times, which is really unbearable for me.
Ad blocker interference detected!
Wikia is a free-to-use site that makes money from advertising. We have a modified experience for viewers using ad blockers

Wikia is not accessible if you've made further modifications. Remove the custom ad blocker rule(s) and the page will load as expected.