Overall Description Edit
Although long and tedious tutorials is a terrible choice for letting players familiarize games, tutorials could be very effective if different tutorials target players with different knowledge levels of the game. This could help players locate their skill levels of the game and familiarize the core mechanics as fast as possible so that they can get into main game quickly.
Example for Demonstration Edit
WildStar Edit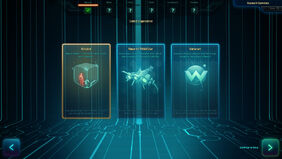 WildStar is a MMORPG game published by NCSoft. Unlike other MMORPGs, WildStar has 3 different tutorials targeting players with different knowledge level of WildStar. Novice tutorial is for those who never played MMORPG games before; New to WildStar tutorial is for those who have played other MMORPGs but not WildStar; and finally, Veteran is for those who already had basic knowledge of WildStar. This setting can help players locate their skill level and let them skip those knowledge that they already knew and learn what they need to learn immediately.
Ad blocker interference detected!
Wikia is a free-to-use site that makes money from advertising. We have a modified experience for viewers using ad blockers

Wikia is not accessible if you've made further modifications. Remove the custom ad blocker rule(s) and the page will load as expected.