In general, players play the same game will have the same story and same final result. Multiple story-lines is that the players can make some decision to decide how the story in games will become. Also, players can do some sub-tasks to see an extra story or have an additional benefit.
Example: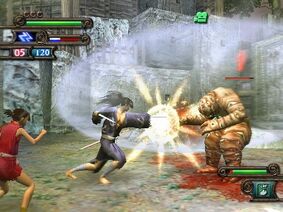 Blood Will Tell: Dororo
The game is divided into nine parts, and each part has a main fiend that player must fight against. However, the players have to look for where the other fiends were by themselves. The final result depends on the sequence of how the players fight against the fiends.
Undertale
The video game: Undertale is all about giving the player choices. From the beginning of the game, you have the choice to either kill the monsters or talk your way out of battles. Both of these paths have consequences that you learn about while playing the game but they will each lead you on a different path.
Ad blocker interference detected!
Wikia is a free-to-use site that makes money from advertising. We have a modified experience for viewers using ad blockers

Wikia is not accessible if you've made further modifications. Remove the custom ad blocker rule(s) and the page will load as expected.