With games featuring levels that need to be manually created, adding content in terms of new levels can often be a time consuming or expensive task for game developers. As such, quite a few games provide in-game level editors that allow players to create levels. Not only does this offload level creation from the games' developers, it offers players more than they have come to expect from a game. Opening the editor and designing levels now becomes another reason to keep visiting the game. Further, most games that offer players a chance to create levels, also add player designed levels to the actual game thereby adding another element of engagement.
Examples Edit
Halo 5: Forge
In halo 5, they have an in-game map builder called Halo 5: Forge. This in-game map builder is an extremely powerful tool for developers and halo fan alike. Forge has an amazing amount of depth, allowing the map developers to create and build almost anything they can think of.
Warcraft 3
Warcraft 3 has a game editor which allows players to make custom game types/mods for WarCraft 3. The level editor adds depth to the game play allowing and inviting players to be creative and create content for the game. Even games such as League of Legends and DOTA were inspired by Warcraft 3 mod called Defense of the Ancients.
Advance Wars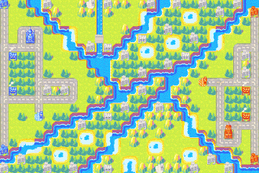 Advance Wars is a turn based military strategy game with multiplayer and a single player campaign. The design map editor in this game allows players to make their own maps to play on. The editor is robust enough to make more difficult maps than the ones offered in single player. These user created maps can be played vs. an AI or with friends in a classic free for all mode or teams. This adds hours of replay-ability to the game and is also a great way for players to test their skills.
Badland
Badland is a 2D physics side-scroller that launched on iOS and Android in 2013 and won multiple awards. The game involves the players helping the in-game character navigate through a beautiful level filled with intricate and treacherous contraptions. In a later update, the developers added a level editor with a large inventory of items that allowed players to design complete levels and test them within the game itself.
King of Thieves
King of Thieves is 2D side-scroller game that us launched for Android and iOS platforms by ZeptoLabs. The game mechanics is to create a defense around our base in order to protect your gems. Thus the game allows creation of own levels and challenge other players of the game to break it. This game perfectly incorporates creation of levels and game mechanics to influence gameplay.
source: https://play.google.com/store/apps/details?id=com.zeptolab.thieves.google&hl=en
Ad blocker interference detected!
Wikia is a free-to-use site that makes money from advertising. We have a modified experience for viewers using ad blockers

Wikia is not accessible if you've made further modifications. Remove the custom ad blocker rule(s) and the page will load as expected.