Recently, lots of MMOs have special holiday events for players to enjoy in-game and celebrate the holiday. It is really a good thing to integrate into games to make it more immersive and can always attract people to play. Depending on the region, MMOs can include some special events that will base on regional holidays.
Example1:Transformice
Transformice is an MMO platformer where you play as a mice and tries your best to bring back the cheese on the map. The game has a ton of events for the player to enjoy. Usually, the events contain Cosmetic Skins based on the events. A special holiday map will be randomly spawned for players to play with. When completing the map, a Cosmetic Skin will be added to player's inventory. If player wants to have the whole set of event skin, players need to put lots of time into the game. Usually, these events will last 2-7 days.
Runescape
Back in the day this MMO had a multitude of holiday-centric events. Entire dungeons may appear overnight, new quests would be designed from scratch, or items in inventories/banks could be swapped out for a light-hearted April Fools laugh. Especially in cases of these time-sensitive events yielding unique and otherwise unobtainable items/experiences, they were actually a rather ingenious way to incentivize players to stay on the servers when they might otherwise be spending time away from the computer (like during Christmas). They also gave the players something fun and interesting to talk about to their non-Runescape playing friends, perhaps attracting new users to the game. In addition, if a special holiday item is enticing enough (rarely), it could also work to bring players who left the game back into the fray.
Guild Wars
Arenanet's MMORPG, Guild Wars, would often integrate themes of the pertinent real world holiday into their game. This would be done by new holiday oriented side quests such as snowball fights, turkey chasing, etc. Often times the developers would also decorate the city with the trappings of the season to appeal to players. Sometimes they would even have a holiday themed boss fight that was on a timer to inscentivize players to play during lull times such as having an undead Santa boss fight that must be fought at midnight on December 25th,
World of Warcraft
World of Warcraft has many holiday themed events. This events often have custom assets that can be gained through holiday themed quests throughout the game. Many major areas are decked out in holiday decor and they often have special boss fights or events for each holiday as well.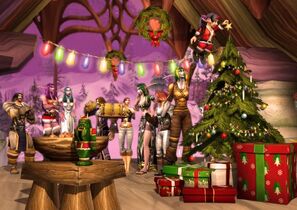 Ad blocker interference detected!
Wikia is a free-to-use site that makes money from advertising. We have a modified experience for viewers using ad blockers

Wikia is not accessible if you've made further modifications. Remove the custom ad blocker rule(s) and the page will load as expected.