Some games allow players to play against AI to practice before playing with other people. However, for some games, AI are too easy compared with real persons. After gaining confidence by practicing with AI, beginners will feel extremely frustrated when jump into the combats against real players, which lower their motivation to play.
Counter-Strike: Global Offensive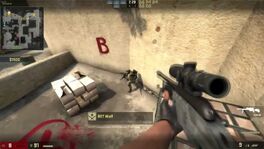 CS:GO has AI with four levels of difficulty, easy, medium, hard, and expert. Beginners can choose which levels of difficulty they want to practice with. However, the AI are so dumb that even the expert BOTs are way easier than the players in the lowest rank. Players with no experience in competitive FPS game would easily freak out by actual players and not play the game anymore. The AI are not smart enough to train the players.
Ad blocker interference detected!
Wikia is a free-to-use site that makes money from advertising. We have a modified experience for viewers using ad blockers

Wikia is not accessible if you've made further modifications. Remove the custom ad blocker rule(s) and the page will load as expected.