In many video games, AI(Artificial Intelligence) is used to generate intelligent behavior and also plays the major part in gameplay. AI helps the player in many ways for example the player can learn the gameplay of that game. Ai gives a chance to players to explore and experience new things and new characters in games. AI also provides tough competition which helps the player to practice the game before serious matches.
Example:
One of the best examples for AI related game is "overwatch." This gameplay is based on team play; the players are divided into two teams and challenge each other. The players in this game can learn and explore the game using AI; this helps them to come up with new strategies in the team fight.
Ghost in a shell Edit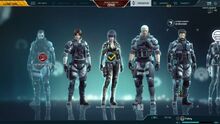 In this game, the first tutorials are performed with AI and thus helps the player to understand the gameplay before actually playing the game. Hence, this makes player to learn prior to gameplay so that they can be prepared for coming instances.
Destiny:
Destiny is another example of this type of games where an AI helps you explore and guides you through the game. In Destiny you have your ghost who is always with you and helps you with each and every mission telling you what to do.
Ad blocker interference detected!
Wikia is a free-to-use site that makes money from advertising. We have a modified experience for viewers using ad blockers

Wikia is not accessible if you've made further modifications. Remove the custom ad blocker rule(s) and the page will load as expected.